After seeing a lot of wedding submissions, there's one important thing I can advise to couples – just be genuinely happy. Capturing posed photos are good but the candid happy moment ones are priceless. The couple's photos were infectious, it made me smile and teary-eyed. You could really feel the love they have for each other. The whole setting helped up the romance and loveliness. They had awesome vendors; the event was well planned and designed. The couple had vintage lamps around, and baby's breath to accentuate the setting. They even light floating lamps to the pool that made the whole venue warm and cozy. Speaking of warm and cozy they also had a bonfire perfect for the cold outdoor setting which where the couple warmed themselves after jumping in the pool!
What is the overall story for this album?
I can't express how incredibly genuine this wedding was. I get inspired in love often as a wedding photographer. It's extremely rare (as in, never happened before this) that I will burst into tears and have to walk away from the ceremony for a moment. It's something that I will remember for years.
What inspired the wedding day outfits?
From the moment that I met Eric & Rachael I knew they had a sense of modern style. It's something that every photographer appreciates – when you don't have to beg your clients to dress well. I can't say what inspired the outfits, but I know that they nailed it.
What was your favorite part of the day?
My favorite part of the day was the way they ended the night. I've never had such adventurous clients. It wasn't even my idea, but they wanted to jump in the pool at the end of the night. So we got the cameras/lights ready, synced the video cameras up at 240fps and let them at it. Such a unique ending to an incredible wedding day.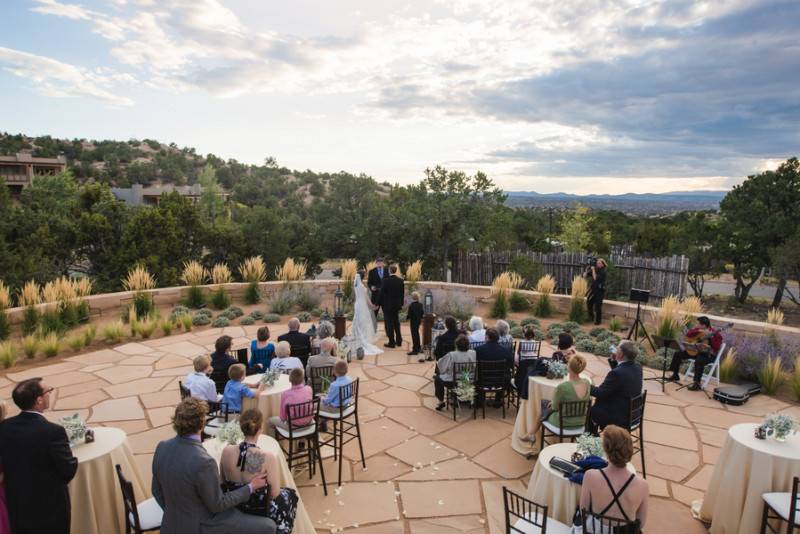 Was there any Do it Yourself (DIY) projects? If so, can you describe them in detail?
None. They had an incredible designer handle everything.
What were the highlights from the ceremony & reception?
There was a moment during the ceremony where Rachael gave Erics son a necklace, he simply responded "I love you Rach" – it was a beautiful moment.
Was there a theme for the ceremony and reception?
Classic, simple and elegant.
What part of the ceremonies do you think was the most memorable for the bride and groom?
I'm not sure of an exact moment, but it was such an intimate and distraction-free ceremony that it allowed them to focus genuinely on one another during the entire thing. It never felt like a show or contrived at all.
VENDORS
Photographer:  Tony Gambino Photography
Floral Designer: Cutting Edge Flowers
Caterer: Four Seasons Ranch Encantado
Location: Four Seasons Resort Rancho Encantado Santa Fe
Makeup Artist: Makeup Santa Fe
Hair Stylist: Wild Hare Salon
Reception Venue: Four Seasons
Design and Decor: Jessie Baca