Brianne and Kyle wanted to portray a casual everyday vibe on their shoot. The chosen location was their Alma mater – Cornell University. They thought it was the perfect place for it since they met there. I loved how they dressed casually as to how they would on a day-to-day basis. Their outfits and as well as them are comfortable on the shoot.  These two were just completely natural and relaxed on their engagement session – read more to know their secret!
What did you want to portray in your engagement shoot?
I don't think Kyle and I had a specific goal for what to portray in the pictures, the most important thing to us was that the photographs look as natural as possible. Of course, we wanted to look happy and in love, but we didn't want to look like two people who were *trying* to look like they're happy and in love. We wanted the photos to be a real record of us and how we feel about each other.
Why did you choose the location?
Kyle and I met as undergraduates at Cornell in May of 2009. Obviously, it's a beautiful campus, and it's very special to both of us. Many of the pictures were taken at places around campus that were significant to us during our time there. For example, we took some near Goldwin-Smith hall, where I had some of my favorite classes. We also took some at Kyle's fraternity, Alpha Delta Phi, where Kyle and I first met through friends.
What inspired your outfits for the engagement session?
I knew that there was abundant opportunity to capture beautiful backgrounds at Cornell, so I wanted our clothing to be mostly neutral. Rather than being too "matchy-matchy," we wanted to dress in a way that made us feel most like ourselves. Other than my coat and scarf, everything we wore was something we owned before we even got engaged! I was very happy with the result – now, anyone who looks at the photos will see Kyle and me as we might look on any given day.
Do the photos give a hint on what will happen on their wedding day? How so?
We threw in a hint or two. We're still very early in our planning, but the gold tone of my scarf is reminiscent of our color scheme. We also know we want to tie in a tribute to Cornell somewhere in our celebration – maybe as a themed signature cocktail!
How did you feel at ease with all the posed shooting?
We had a beer at lunch. Just kidding! I mean, we did, but that's not what helped us relax. It's definitely easy to imagine a posed shoot to be somewhat awkward, especially if you or your fiancé is shy. My first advice is to mentally prepare yourself for the day. Make sure you're physically comfortable in the clothes and makeup you choose. If you can, get your hair and makeup done professionally, to give you an extra boost of confidence. If that's not an option, plan ahead. Our photos were on a Monday when most salons are closed, so I had to do my hair and makeup. To prepare, I spent some time watching YouTube tutorials on hair and makeup and practicing the application. A quick Google search will yield tons of information. The other advice I have is to allow yourselves to ease into the process. If you know you're stiff in front of a camera, ask your photographer if the first few shots can be "practice shots." After you've been at it for ten or fifteen minutes, the experience won't seem so weird.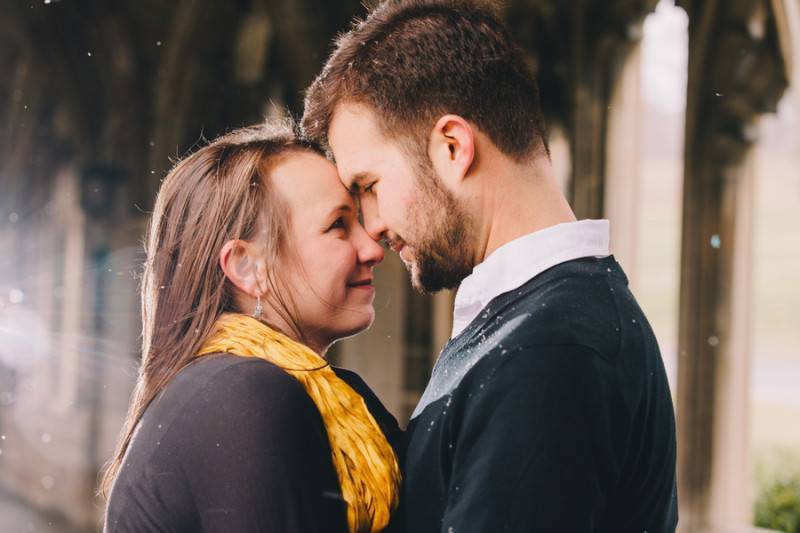 VENDORS
Photographer: Calypso Rae Photography
Other Location: Cornell University