Candles make beautiful wedding décor, and although it can be expensive to buy hundreds of pillar candles, you can create cheap and beautiful candle holders to fill with tea lights. It's much more economical and just as beautiful. Here are 3 great DIY wedding candle ideas.
Paper Covered Glass Candle Holders
From your local dollar or craft store, you can purchase tall white candles in glass containers for about a dollar each. They're okay on their own, but with a little fix-me-up, they can be gorgeous. Simply use whatever color tissue paper you want, and tear it into pieces. Use school glue to coat parts of the glass and cover with the paper. Then place another coat of glue over the paper. Cover the entire candle in this way and the result is really beautiful.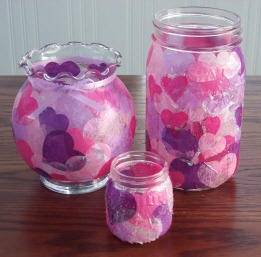 Wine Glass Centerpieces
Use beautiful wine goblets to create fascinating centerpieces. Fill the goblet part of the glass with whatever decoration you'd like (a glittery pine cone is great for winter weddings) and turn the glass over on the table so it's upside down and your decoration is trapped inside. Then, place a tea light candle on the bottom of the glass and voila – you have a beautiful centerpiece that's very inexpensive.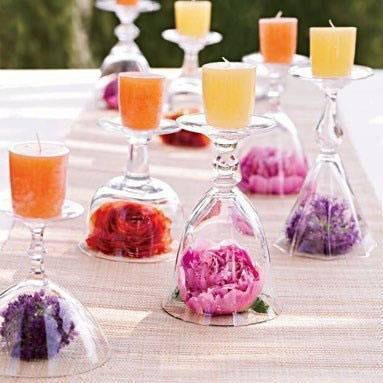 Floating Candle Centerpieces
You can purchase large glass containers at your local craft store inexpensively. Place pretty silk flowers in the containers and fill with water. Then, place a floating candle on top and light it for a beautiful effect.
These 3 wedding DIY candle ideas are perfect for creating a beautiful effect and they wont' cost a lot of money to create.