David and Arielle started out as college acquaintances, and now they are Mr. & Mrs. The couple had a white with a dash of purple that turned out very clean, chic, and fresh. Arielle had the most fun on her wedding day especially in her wedding dress — she couldn't stop twirling! Share their joy by browsing through their wedding gallery down below. Congratulations to the happy couple!
Our Story:
Dave and I first met in college and never dated! We were just acquaintances, and we had two classes together which is funny because I never knew I was sitting across the room from my future husband :) We ended up reconnecting in New York City when Dave came in from New Jersey to see some friends and a friend of mine suggested we meet up with them.
We Are A Perfect Match:
We have a good and healthy mix of similarities and differences and our differences each allow us to bring something different to the relationship that is what makes us so successful. We're both a bit clumsy, and we have lighthearted good senses of humor. We like to laugh and have fun. I'm a little more outspoken than Dave, however, Dave can stay calm during the storm, so we even each other out.
The Theme:
Chic, white, very clean
The Outfit Inspiration:
I used to be a competitive figure skater and when I tried on my dress that was a ballgown; it brought me back to my competition days, and I knew it was perfect!! I couldn't stop twirling in the dress!!! For the men, my Dad and Dave's dad both wanted to wear tuxedo's., The dress code for the wedding was cocktail attire because I actually hate tuxedo's (I call them penguin suits) but because my dad was so nice about paying for the wedding I decide to relax about the dress code and let all the groomsmen/bridal party wear tuxedos.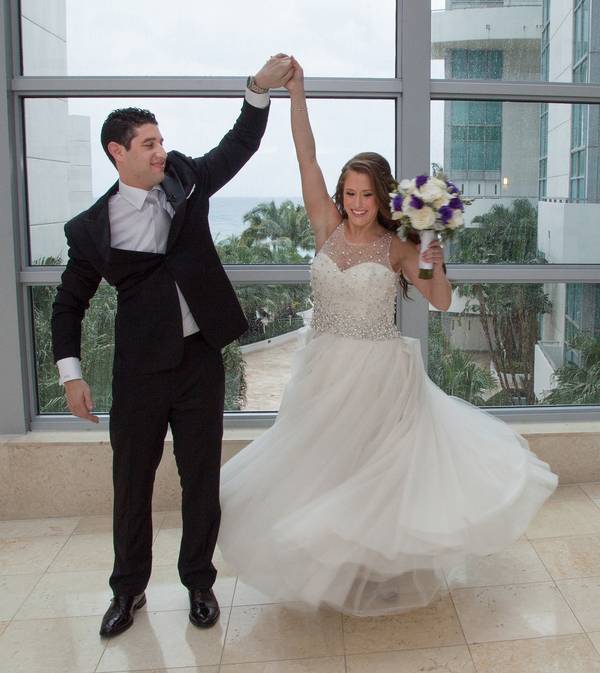 The Proposal:
Dave's proposed at a restaurant in NYC called Philip Marie. They provide a unique private dining experience in their basement. We ate in the small but romantic wine cellar that only seats two and has a lot of history (there's a big hole that's visibly patched up in the wall blocking a tunnel that was once used to smuggle in alcohol during the prohibition).
The Planning Process:
We got engaged March 2014 and married end of February 2015. We didn't start planning until a few months after we got engaged so I'd say overall planning was nine months, and it was plenty of time! It allowed us to get a great venue, hire an amazing wedding planner, and secure all of the best vendors – all of whom weren't taken yet because we were still a while out from the wedding.
The Best Advice We Received:
The best advice I received is to be decisive because there are a million options for each detail of the wedding, and you can spend a lifetime looking at them all so just know what you want and make decisions. I felt I did a really good job at that!
Tips & Tricks For Future Brides:
Tips would be to divide and conquer and don't feel bad making the groom get involved. I had my fiancee help with a lot of the aspects of the wedding and just being able to put trust in other people will take a lot of stress away from yourself. Pinterest is obviously a given and can help you find amazing idea's you didn't even know you wanted to have. I wasn't the type of girl who had my whole wedding planned out before I got engaged; I had never thought about how I wanted my wedding to look or feel, so Pinterest gave me a ton of inspiration.
The Wedding Décor Inspiration:
For decor, I wanted a clean, chic look with a lot of whites and a splash of purple. When I thought about the decor, I thought about The Delano hotel. The biggest thing for me was the band because they dictate the entire party. If you have good music, you have an amazing party, so I was extremely picky about the band and made sure that they played all top hits and no mo-town. I can't even tell you how many people came up to me after to tell me they LOVED our band.
Money Matters:
I didn't have a specified budget however I was very concerned about making things as affordable as possible and avoiding any unnecessary costs.
I saved a ton of money on my dress because I picked the sample dress from the sale rack. It was an amazing dress, and it fit me perfectly and I didn't believe in spending a lot of money on a dress you only wear once and most likely ends up with drinks spilled on it by the end of the wedding. I also bought the cheapest veil I could find! We didn't do programs at the ceremony because I've been to a ton of weddings, and all I've ever seen are those strewn all over the floor after the ceremony ends. People don't take them, and they end up just being a waste of money and paper. Also, Instead of doing a menu at guests seats since they already chose their meal before the wedding, we did a thank you note on one side and the other we told what we love about one another. It was a beautiful touch that the guests loved.
The biggest expense was the food, decor and the band, but those are very important aspects. I wanted to drape because I feel like it makes the entire room look fabulous, I wanted a white dance floor because it fit in with my chic theme, and I wouldn't take no for an answer on a Photo booth because they are so fun, and I wanted to have the memories.
The Guest List:
We invited 375 guests, and we had 250. It was a destination wedding, and we knew a lot of people wouldn't be able to make it but that our closest family and friends would be there 100% that they were!
Having a destination wedding helped narrowing down the list and I did this on purpose. I knew if I had the wedding where I grew up the guest list would get so out of control but if I did a destination wedding it would require people to travel, and only the people who truly care about us would make the trip that is what happened!
The Songs:
Dave and I love music can't say that enough!!!
For the ceremony, we used Processional – Lumineers Ho Hey, Mumford & Sons I Will Wait
Bride's Entrance – Lumineers Stubborn
Love Recessional – Mumford & Sons I Will Wait & The Beatles All You Need Is Love
Planning Advice For Couples:
ENJOY IT!!!! It flies by you'll blink, and it's gone. If you don't enjoy it, you'll regret it.
Favorite Part of The Day:
My favorite part of the day was the reception and Dave and I being surrounded by all of our closest and beloved family & friends. It's rare for us to have everyone in one place (my family is from Cleveland, his is from New Jersey, and we both live in NYC) so to have people from all aspects of our lives and different time periods in our lives all come together was just amazing.
The Highlights from The Ceremony & Reception:
Ceremony highlight was my cute nephews walking down the aisle each holding a sign. Ari, who is 6 turning seven next month, carried a sign that said "here comes the bride" and Noah who just turned 5 carried a sign that said "don't worry ladies we're still single" this was a huge hit they got a standing ovation lot of laughs, and everyone just loved it.
Most Memorable Moment:
The ketubah signing because we had all of our closest family and the bridal party there.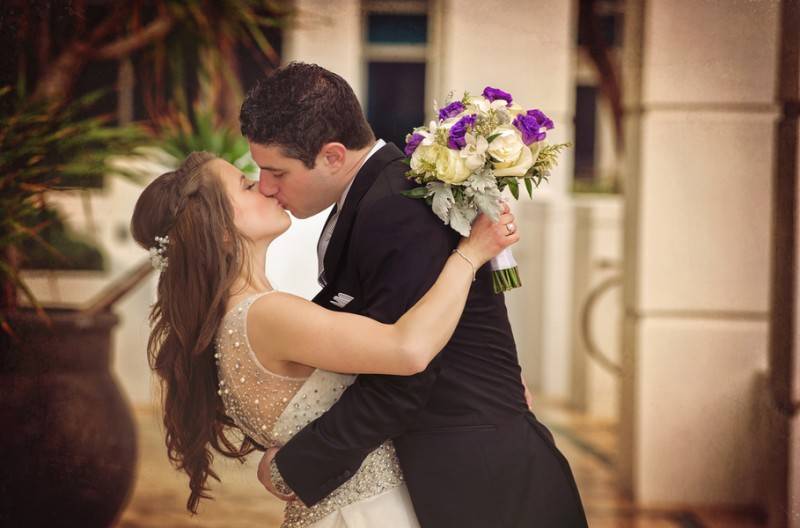 VENDORS
Photographer: Jeff Kolodny Photography, Inc
Floral Designer: Dalsimer Atlas
Event Venue: Diplomat Resort & Spa
Cake Designer: Dominique's Couture Cakes
Jewelry: Gottlieb & Sons
Cinema and Video: Jeff Kolodny Photography Inc.
Makeup Artist: Lips to Lashes
Hair Stylist: Phairis Luxury ~ Onsite Bridal Hairstyling
Musicians: Tropics Entertainment
Event Planner: Your Special Day by Joni